High-pressure water technology
Innovation. Performance. Effectiveness.
Using the innovative duo twister from traffic-lines, we can clean various different surfaces and restore their trafficability. Whether markings, concrete slurry or stubborn rubber skid marks, the environmentally friendly duo twister cleans efficiently and effectively.
operating time under full load
Innovative technology:
Annular clearance suction
The twister system cleans particularly effectively with an adjustable water pressure of between 1,500 and 3,500 bar, while preserving the subsurface and road surface at the same time. By immediately sucking up the sprayed water at the side, the effectiveness of the high-pressure water jet is not negatively impacted by a layer of water. The annular clearance suction technology generates an enormous flow velocity using low negative pressure and a large air volume of approximately 15,000 m3 to suck up even the smallest liquid particles. This means that the surfaces are almost dry and ready to use immediately after the cleaning process.
Full performance thanks to maximum operating times
The duo twister can clean, among other things, open-pored asphalt surfaces, concrete, bituminous surfaces, special surfaces made out of asphalt and concrete, anti-slip surfaces and noise reducing road surfaces. The water loop water treatment system and additional diesel tanks save even more time and money. By removing the need for refueling stops and the collection of fresh water, it is possible to increase the operating time to a minimum of 6.5 hours at full load with a pump output of 54 l/min.
Powerful effect with reduced operating costs
Sucking up the dirty water and all of the dirt particles in the same work process and using the same vehicle also saves personnel costs because only one person is required. The duo twister is available with a working width of between 3.10 and 4.20 meters. As a result, the duo twister is able to clean up to 4,980 square meters per hour with just one machine and one driver and thus significantly reduces operating costs.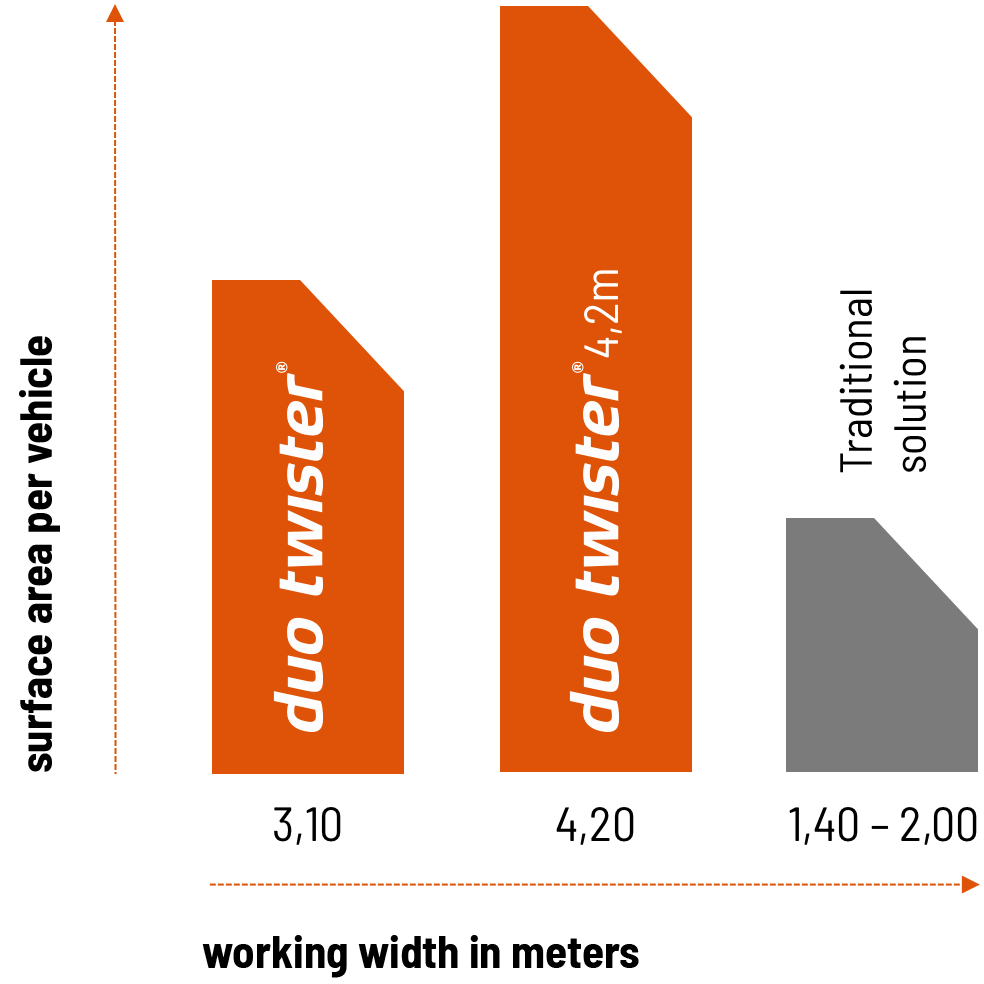 cleaning and suction power
Operating time: min.
6.5
h
Water loop – up to 80%
less waste
The suction system on the duo twister ensures that almost all of the water is fed back into the cleaning cycle.